….riporto integralmente un interessante contributo….
di Tom McClellan (per chi non lo sapesse ha inventato un indicatore tra i piu' seguiti)
Gold's 13-1/2 Month Cycle Low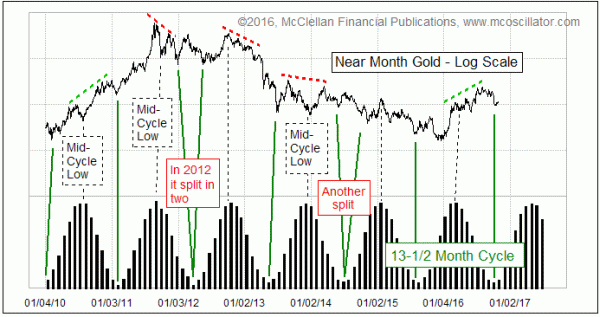 October 27, 2016
Gold was supposed to see a 13-1/2 month cycle low ideally due in October 2016, and that low appears to have arrived right on schedule.  In past cycles, the actual price low can arrive +/- a month from the ideal date, and still be considered to be "on time".  So while it is not certain yet that the cycle bottom for sure is in, things are looking pretty good in that respect at the moment.
I discussed this cycle here back in May 2016, as I was contemplating the arrival of both this cycle's bottom in October 2016, and an even longer term cycle with a period of 8 years whose bottom was due at the same approximate time.  8 years is 96 months, and that cycle's actual period has ranged from 91 to 102 months since gold first began to be traded freely back in 1975.  So it is harder to nail down an exact arrival date for that cycle ahead of time.
But since the 8-year cycle's ideal arrival date just happens to coincide with the 13-1/2 month cycle low this time, my expectation has been that the two would "nest" together.  So far, there is no evidence to contradict that.
The importance of the 13-1/2 month cycle lies not just in the timing of the major cycle lows and the lesser mid-cycle lows, but also in observing how prices behave surrounding that mid-cycle low.  If the highest price for each 13-1/2 month cycle arrives to the left of the mid-cycle low, that's known as "left translation" and it  conveys a bearish message about the future for gold prices.  If you see left translation, you can reasonably expect a lower low for gold prices during the next cycle.
That was the condition we had seen in each cycle all the way down from the 2011 price top.  But now in this latest 13-1/2 month cycle, there was a shift to "right translation", with the high for the cycle arriving after the mid-cycle low.  This is a very bullish development, and it says that we should expect to see a higher high for gold prices during the new 13-1/2 month cycle which is just now starting.
Now here is the caveat: This cycle does not tell us exactly when that higher high will arrive, nor does it guarantee that the 13-1/2 month cycle low is for sure all done being formed.  For that, we have to consult other tools.  In our Daily Edition I recently pointed out that gold's Price Oscillator has turned up, and that so is one bit of confirming evidence.
Tom McClellan
Editor, The McClellan Market Report